スポンサーサイト
2017.05.31 Wednesday
 - -
Dorien Roling: BRIDAL BOUQUET with shells.
2013.07.10 Wednesday
Dorien Flower Design.
ドリーンフラワーデザイン
Good Evening Flower Lovers.

And could you smile today? Did you try a fake

smile? Don't give up it will become natural!!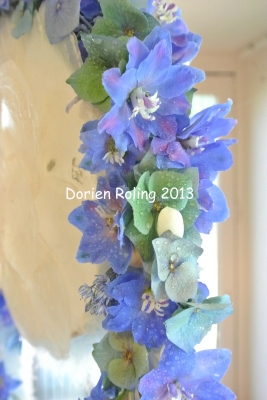 Photo: Season course, 2nd June in Totsuka atelier,

detail of the Bridal Bouquet.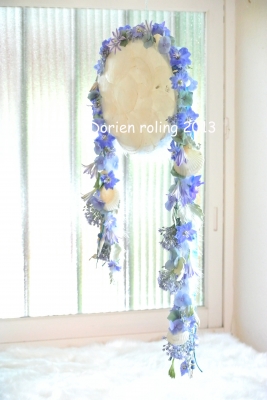 Photo: Season course, 2nd June: Bridal Bouquet.

All the students made this bridal bouquet very well.

Next Season course lesson will be on 13th October

Title; Halloween design. Please join this afternoon

lesson in our atelier with great relaxing energy.

Enjoy smiling and relax. Love from Kyoto 43 degree,

where I am teaching now 2 days the VBW Diploma

line Advance Dutch Flower Arrangement ADFA.

Dorien. http://www.dorienroling.com


ドリーン ローリン Dorien Roling ADFA BRIDAL bouquets
2010.03.18 Thursday
ドリーン ローリン
Dorien Flower Design
Good evening Flower Lovers,
Did you had a good day with smiling time ?
It is never to late to give yourself a smile !!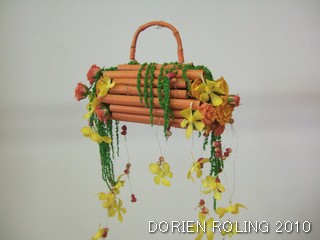 Photo; ADFA : ADVANCE DUTCH FLOWER ARRANGER
Bridal Bouquet in self designed Bamboo Frame,
with beading technique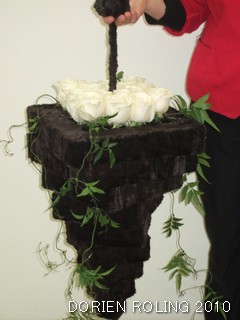 Photo: Bridal Bouquet with square parts.
Today we went to DANIEL OST expo in Ikebukuro.
It was beautiful again.
Daniel al way's come with Yvonne his assistant
for 20 years, she was in the same
MASTER DEGREE CLASS as me, it was nice to talk to
her again. Daniel was sitting with
(his beautiful Japanese classes on) by the sale
corner and we could talk very relaxing this time.
I also met some students and staff from
DE MASTER FLOWER SCHOOL time.
Nice inspiration day.
Tomorrow Setagaya flower market, 4:00 stand up.
Have a nice evening.
With love Dorien
ドリーン ローリン Dorien Roling BRIDAL bouquets
2010.03.17 Wednesday
ドリーン ローリン 
Dorien Flower Design
Good Evening Flower Lovers,
This morning the first time on the new red
bicycle to my atelier.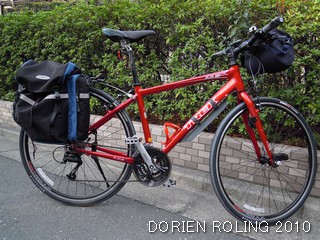 VERY SPEEDY this bicycle.....or just mental ?
Today I worked on the DESIGN & TECHNICAL
COURSE for Sunday.
The natural bases from Europe arrived 10;00 am,
and I paint the bases first white and later pastel
purple. Purple paint I mix by myself,
it is difficult the get purple in the home centre.
All the colors in my atelier I mixed, my carpenter
was very surprised.
I also make wooden stand, and used sand paper
machine. I had a great time working with wood
and paint in the garden. The result /photo's will
come in a few day's after the lesson.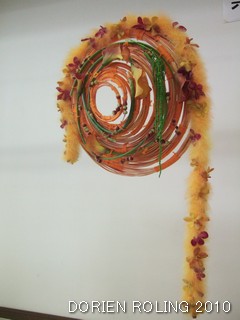 Demonstration NFD Kumamoto Kyushuu
Bridal bouquet with flexible circles.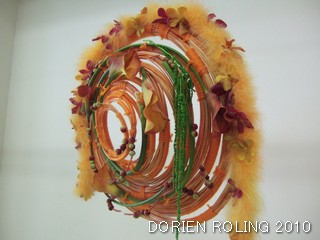 Photo: Bridal bouquet detail.
Have a nice evening,
With love Dorien.
ドリーン ローリン Bridal.
2010.03.10 Wednesday
ドリーン フラワーデザイン
Dorien Flower Design
Good Afternoon Flower Lovers,
The sun is shining again and 14 degree in my atelier.


In Gumna by the Obuchi family I made classic bridal

bouquets and
wedding party designs, you can see the

photo's on this blog February 2010.


Today I like to share Bridal photo's from 1958 and 1962.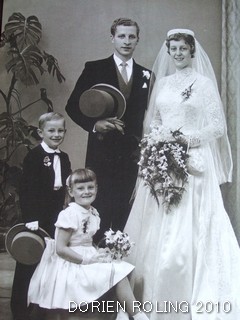 4 June 1958, Harry and Ria Roling, my parents.


Classic bouquet with wire technique.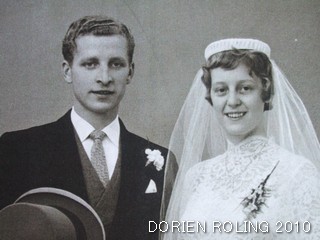 Detail corsage, my father Dianthus with Asparagus,
hand tied technique and my mother flowers from her

wedding bouquet.
Stephanotis with there great smell

and Asparagus, wire technique.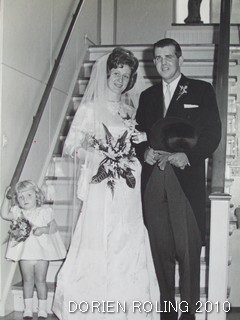 1962, Just 4 year later my mother sister Willy

and Hans
with a 'modern' bridal bouquet.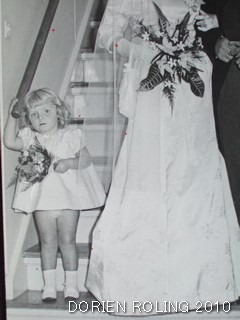 And here Dorien as little brides maid
!!
Have a good evening .


With love Dorien
.
BRIDAL WORK FAMILY OBUCHI no.4
2010.03.01 Monday
Good Morning Flower Lovers,
How are you this Monday morning ?
Please give yourself a smile and relax !!!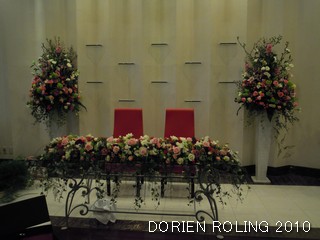 Photo; Main wedding table decoration,

mainly Rosa
with there great smell.

The big arrangement left and right
is also classic design with the same

flowers as the pink graduation
bridal bouquet.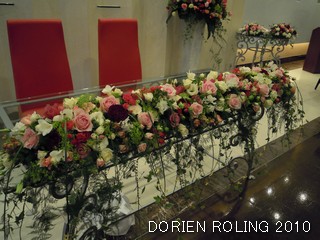 Photo; This classic table design covers

the total length
of the main table,

with hanging greens and hyacinthus on

beargrass.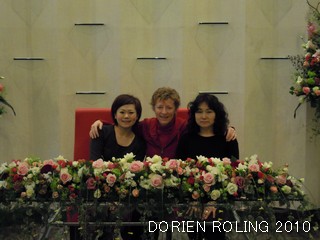 Photo:From left to right; Yuki Obuchi,

Dorien Roling and Mrs. Obuchi.
Thanks to all the support of the DFA schools

and the last 2 day's Obuchi family,

I had a great week working and traveling

all over Japan.
I learned a lot and made

new flower friends. Thank you very much !!


Today's quote;

BLUE MONDAY......chance it to YELLOW MONDAY,

put some yellow flower or yellow card or yellow ????

on your desk. Yellow color can chance

you Blue mood in POSITIVE MOOD.


Enjoy your YELLOW MONDAY - relax and smile.


With Love Dorien
BRIDAL WORK IN GUNMA no.3
2010.02.28 Sunday
Good Morning Flower Lovers,
Looking at the Olympic games;
for me every one deserve the GOLD medal.
It is a great world sport friendship event.
More photo's of the Obuchi family wedding;
Photo; Bridal Bouquet waterfall style.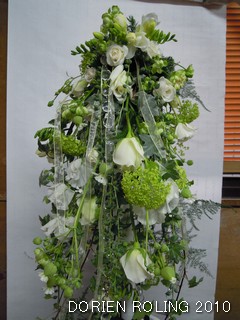 Photo; Detail Bridal Bouquet waterfall style.
With crystals decoration.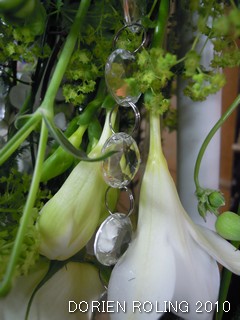 Broom corsage with 2 crystals, wire technique.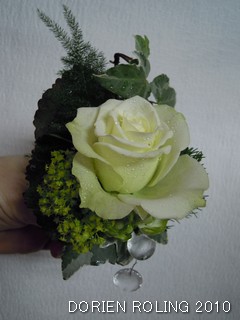 Today's quote; I choose to be happy today,
what about you ?
With Love Dorien.
Bridal work in GUNMA no.2
2010.02.27 Saturday
Good Morning Flower Lovers
Congratulations !!!!
Today is the wedding by the Obuchi Family.
We worked 2 day's with Mrs. Obuchi,
Takehiro Obuchi, Yuki Obuchi, Tachi Ishiyama,
Mrs. Ishiyama and 2 other staff to make all
the flower decoration. The flowers and green
where very beautiful and more than enough.
Photo: Yuki Obuchi and Dorien Roling working
in the flower shop "HANA-MU" (flower dream).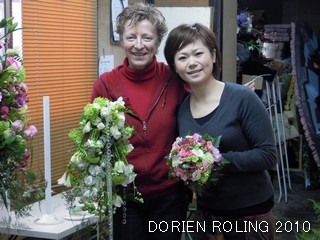 The working space was very nice
with many window's.
Photo:
Dorien is making waterfall Bridal Bouquet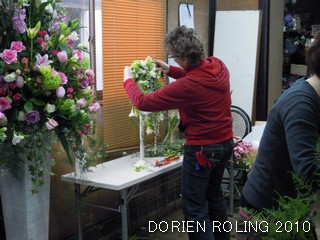 Photo; 15 Guest tables,
Biedermeier design and candle with
fire work in side.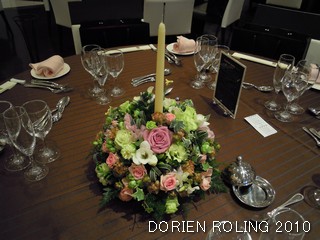 Biedermeier Bridal Bouquet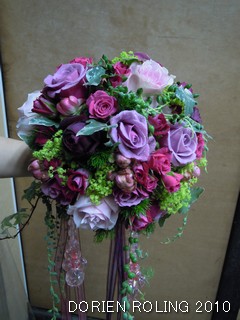 Detail photo Biedermeier Bridal Bouquet.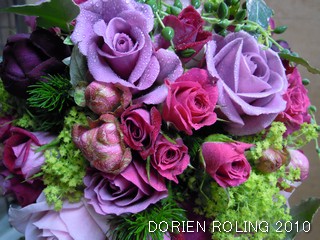 We had a great time with making!!
Thank you very much all the
Obuchi family members and assistants.
Tomorrow more photo's.
Have a great Bridal party.
With love Dorien.
BRIDAL work in GUNMA
2010.02.25 Thursday
Dear Flower Lovers,
Today Bridal work in Gunma;
We made 15 guest table design
35 cm. diameter.
Biedermeier style with Rosa as main flower.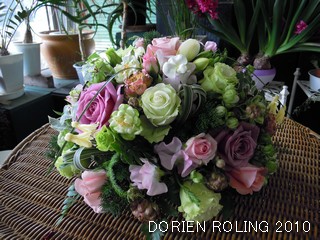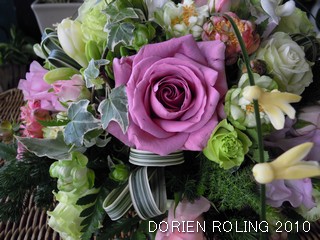 Photo: I am working on the Main table
design 2 meter long, classic style.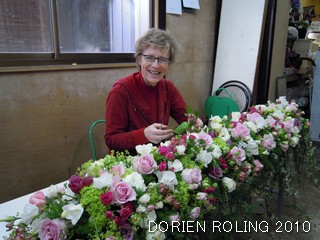 + 3 welcome table design x 50 cm. long.
And 2 big design beside main table.
I got professional florists as assistant,
they did a great job today.
Thank you very much !!
The flowers I ordered where also very beautiful.
The flower shop working space was filled
with nice smell of Rosa, Lathyrus and Hyacinthus.
Tomorrow we will make the bridal bouquets,
corsage and so on.
Today's quote; TRY TO FIND A BIG
BEAUTIFUL OLD TREE NEAR YOUR HOUSE .
If you need more energy or like to chance your
channel---- your favorite tree can help,
by touching, sitting under or putting
your hands on the tree. In the beginning
you may not feel so much, give it time.
I wish you a great time with your favorite tree.
With love Dorien
1/1PAGES